Red Kite Barn
Builth Wells, Wales
A Glimpse at the property
Nestled within 80 acres of private woodlands sits this secluded holiday home. Surrounded by ancient trees and National Trust moorland, offering a tranquil getaway for the entire family.
6
Guests
3
Bedrooms
2.5
Bathrooms
Pricing & Availability
Prices Per night from:
Price on application
Price based on Low Season
Please contact our travel advisors to get confirmed pricing for your dates, all taxes are not included.
Minimum stay restrictions may apply
This charming 19th century stone barn has been lovingly restored, blending traditional design details with modern touches like underfloor heating and a pool table. Turning standard design practice on its head (literally), the luxurious UK rental property features three double bedrooms on the ground floor and the living areas upstairs. This living and kitchen area is clad with windows, offering guests panoramic countryside views and filling the space with natural light.
Despite its rustic facade, exposed stone walls and beams, this peaceful retreat is fully equipped with contemporary amenities, from a rotating log burner to LED mood lighting in the bathrooms and a super-size projection screen for a quiet night in. Bespoke arrangements such as a personal chef or a massage are also available on request, promising a truly relaxing stay.
Guests can also relish in the spectacular surrounds, exploring the nearby National Trust moorland or even heading to prominent local destinations such as the Brecon Beacons during their trip.
Amenities & Services
Wifi
Sky HD TV
Underfloor heating
Pool Table
iPod dock
Wine Fridge
Log burning stove
Projector TV and DVD
Patio Area
Pet Friendly
Pool table
Book the property
Prices Per night from:
Price on application
Price based on Low Season
T: +44 (0) 207 384 6309
You may also like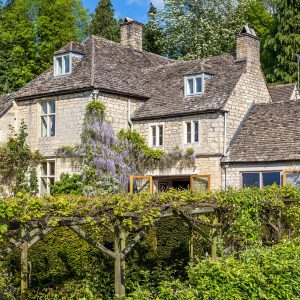 Ullenwood, UK
Bath, UK
Broadway, UK