The Lodge at Alladale
Scotland, UK
A Glimpse at the property
Alladale Wilderness Reserve is 100 square kilometres full of rugged mountains, forests, rivers and lochs. Located at the centre of the Scottish Highland, just 60 mins drive north of Inverness. Experience a truly off-the-radar retreat in a traditional Victorian manor set amongst the wild Scottish landscape.
14
Guests
7
Bedrooms
7
Bathrooms
Pricing & Availability
Prices Per night from:
£2,100
Price based on Low Season
Please contact our travel advisors to get confirmed pricing for your dates, all taxes are not included.
Minimum stay restrictions may apply
Alladale's position at the narrowest part of Britain and on the eastern side of the watershed allows it to experience an above average number of sunny, clear & rain free days; a genuine micro-climate in the heart of Scotland.
Whilst Alladale's re-wilding project has been well publicised over the past decade, their four lodges offer an unparalleled, comfortable and unique 'home from home' experience, that allows guests to unwind and relax in a space more akin to your home than a hotel.
The stunning Main Lodge, a Victorian Manor House, offers space for up to fourteen guests across seven double ensuite bedrooms; six of these rooms can also be used as twin rooms. This luxurious property is fully catered and serviced, as well as offering a fully equipped gym and sauna, a baby grand piano, a billiard room and a TV room for guests to enjoy during their stay.
In addition to a multitude of activities available on the Reserve, the north of Scotland offers a host of incredible day drips; from exploring turquoise waters and golden beaches to historic castles, world famous whiskey distilleries and multiple golf courses.
Their friendly, professional hospitality and ranger teams will do everything they can to ensure every stay is special and suited to each guest's needs. A contribution of guest revenues is also allocated to The European Nature Trust's conservation, wildlife and educational work on and around the Reserve.
Escape to the wilds of Scotland on your next adventure and visit Alladale Wilderness Reserve for a luxurious yet secluded experience.
Alladale has a further three properties available on the Reserve for smaller groups. Please contact us for further information.
Amenities & Services
Fully catered and serviced
Fully equipped commercial kitchen
Free WIFI
Boardroom with latest AV equipment
Fully equipped gym & sauna
Baby grand piano
Billiard room
TV room
Daily housekeeping service
Book the property
Prices Per night from:
£2,100
Price based on Low Season
T: +44 (0) 207 384 6309
You may also like
Oxfordshire, UK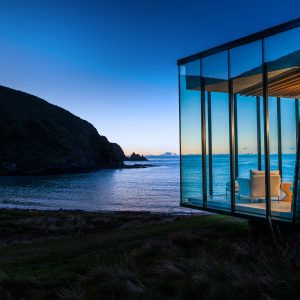 Akaroa, New Zealand
Southrop, UK