Rahimoana is undoubtedly one of the most spectacular properties in the Bay of Islands. Offering elegant, modern minimalism, the floor to ceiling sliding glass walls offer 360 degree views of the outstanding natural beauty which surrounds the villa.
Add to Wish List
A Glimpse of the property
Sleeps
8
4
bedrooms
4
bathrooms
The beautiful Villa Rahimoana is a one-of-a-kind property which sits on a private headland, offering outstanding views across the famous Bay of Islands.
The property has four en-suite bedrooms, flanking the expansive living and entertaining areas. Each room opens up onto the granite balconies and the landscaped gardens. The property also offers a state-of-the-art gym, sauna, Jacuzzi and a jaw-dropping infinity pool.
For those venturing out of the idyllic gardens and away from the pool, there is plenty to explore in the local area and the Bay of Islands. Rahimoana even provides a Porsche Cayenne for guests to use on their trip. Visit one of the 144 local islands, try your hand at water sports or take a helicopter tour over the outstanding natural beauty of the area.
With ocean views, dramatic sunsets, local wildlife and your own private beach, Rahimoana is the ultimate luxury getaway in New Zealand.
Amenities & Services
Porsche Cayenne for guest use in local area
Personal Concierge/Villa Manager
A Selection of NZ wines and French Champagne
Bar Selection
One Personal Chef Prepared meal of choice up to a three course menu Daily
Gourmet breakfast and fruit provisions (replenished daily)
Daily servicing of villa and guest laundry
High speed wireless access
You may also like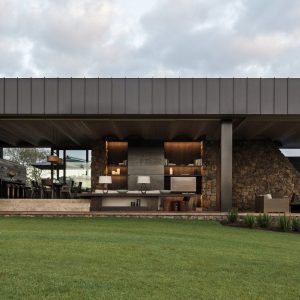 Bay of Islands, New Zealand
Bay of Islands, New Zealand
Bay of Islands, New Zealand