The Floating House
Hermosa Cóbano Beach, Costa Rica
A Glimpse at the property
Located in the Costa Rican jungle canopy, the luxury award-wining Floating House offers the ultimate treetop experience.
7
Guests
3
Bedrooms
3
Bathrooms
Pricing & Availability
Prices Per night from:
$850
Price based on Low Season
Please contact our travel advisors to get confirmed pricing for your dates, all taxes are not included.
Minimum stay restrictions may apply
The Floating House in Costa Rica is a one of a kind property in the tropical treetops above Hermosa Beach. Receiving five awards at the prestigious Costa Rican Binneal in 2015 as well as featuring in a number of publications such as Inhabitat, Dezeen, Design Boom, World Architecture News and Su Casa Magazine, the Floating House truly is a marvel.
Made up of a number of 'treehouse' style buildings, the property is connected by bamboo walkways from the bedrooms to living areas. The king-size master bedroom and queen-bedroom share a large open-air spa bathroom. The latter also contains an additional single bed. The third bedroom is a double room with ensuite and is on a lower level to the other bedrooms. The Costa Rica rental property is also very ecologically minded, made from sustainable teak as well as having its own water-catching and filtration system.
There is also a large outdoor infinity pool and terrace area, overlooking the jungle canopy and out to the bay. Guests may find some friendly neighbourhood parrots and monkeys pop by for a visit.
For those looking to venture out, Floating House is only 10 minutes' drive from nearby surf town Santa Teresa and a range of outdoor activities. The perfect place to stay or play!
Amenities & Services
Infinity pool
Beach view
Housekeeping
Concierge
Massage
Private chef
Air conditioning
Laundry facilities
Kitchen facilities
Internet
Parking
Book the property
Prices Per night from:
$850
Price based on Low Season
T: +44 (0) 207 384 6309
You may also like
La Fortuna, Costa Rica
Cobano, Costa Rica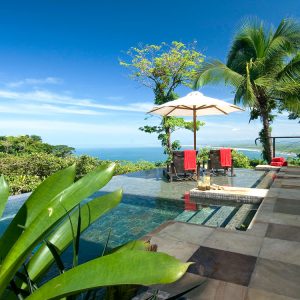 Manuel Antonio, Costa Rica